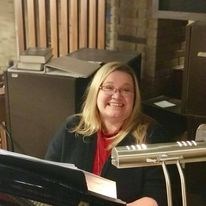 Hello! My name is Melissa Rusu. My family and I are recent transplants to the Dallas area from Cleveland, Ohio. I have three wonderful children and have homeschooled all of them. We also have a fur baby in our house-- a German Shepherd pup named Kory, who is the cutest!
I began my musical journey at the age of 4, having begged my parents to let me take piano lessons. I quickly moved from a tabletop keyboard to an upright piano after it was discovered that my interest wasn't just a fleeting phase. I studied piano all through high school, won several awards and scholarships, then graduated in 2002 from Baldwin Wallace University (College) with a Bachelor of Arts degree. Following graduation, I began teaching privately in earnest, as well as diving into other musical endeavors-- general music teacher, musical director for theater productions, and private lessons.
In 2006, I received an opportunity to join the collaborative artist staff at my alma mater and worked there for seven years. In addition to one-on-one collaboration with students and faculty, I was able to accompany two of the opera workshop classes. As a result of this work, in 2009 I received the opportunity to travel to Urbania, Italy where I served as the primary accompanist for Musica della Marche.
During this time at Baldwin Wallace, I also participated in liturgical music ministries--serving as the music director for the campus Catholic organization on Baldwin Wallace's campus, the music minister for the school Masses at Sts. Joseph and John Interparochial School and the Assistant Music Director for St. Joseph Church in Strongsville, Ohio. Because variety is the spice of life, I also was the choral pianist for both Midview Middle School and Midview High School in Grafton, Ohio
The musical theater shows that I have had the privilege of music directing include Guys and Dolls, Bye, Bye, Birdie, Suessical the Musical, The Addams Family Musical, and Into the Woods (sadly, this was canceled a week before the show run because of the pandemic shutdowns).
Each of my musical "roles" has further cemented my belief in the importance of music education in all lives--young AND old! Of all the positions I have held over the years, my favorites have been the opportunities where I was able to work one-on-one with students. My piano students are near and dear to my heart and I consider many of them family.
My studio is currently located in the Melissa, Texas area (my husband's idea of a joke!). I offer both in-person and virtual lessons. Lesson length varies (depending on age and ability) and more information can be found on my studio policy.